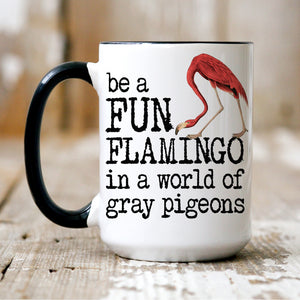 Be a Fun Flamingo…mug
I've made absolutely sure that these 15-ounce mugs are just as solid, sturdy + fabulous as the pure white coffeehouse-style mugs Love Letters is known for. What sets them apart is the black rim and handle that make the bold, distressed lettering you've come to love stand out superbly!
Full-color design is applied via heat press using sublimation, making it permanent + totally dishwasher- and microwave-safe. Specifications: 4.5" H x 3.4" OD.