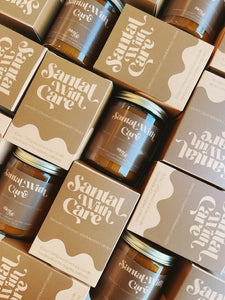 CANDLE: Santal With Care
I'm not exaggerating when I say I spent WEEKS searching for the most perfect candles to add to my little shop, and I couldn't be happier with the California-based company I settled on! Blow Me Candle Co. is family-owned + a small business like me! The scents are absolutely Incredible, and most importantly, THE NAMES! So perfect for my collection of cheeky gifts!
• Hand-poured 8.5-ounce all-natural soy candle w/wood wick
• Approximately 60 hours of burn time

• For every candle purchased, Blow Me Candle Co. plants 1 tree!
• SANTAL WITH CARE: Notes of benzoin, coconut, sandalwood + cedar.