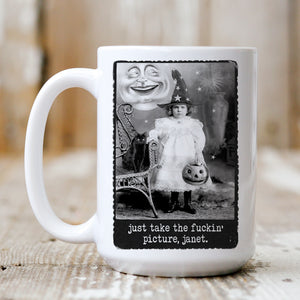 HALLOWEEN: Just Take the F*ckin Picture, Janet
She was probably taking a video + just didn't know it. Janet is stupid.
The HALLOWEEN series combines the most adorable Halloween characters, straight off the cover of vintage postcards from around the world, with lyrics from rap songs + other memorable lines. Super sturdy coffeehouse-style mug holds 15 ounces of whatever you please. Grayscale design is applied via heat press using sublimation, making it permanent + totally dishwasher- and microwave-safe. Specifications: 4.5" H x 3.4" OD.