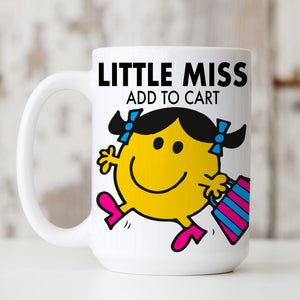 LITTLE MISS "Add To Cart" mug
Though they closely resemble the boldly-drawn cartoon drawings from the book series of our youth, this line of mug designs is MUCH more colorful… like, in the don't-show-your-kids fashion! No longer is there just Little Miss Scary and Little Miss Bad. Instead, let me introduce to you, Little Miss Add To Cart!
Super sturdy coffeehouse-style mug holds 15 ounces. Full-color design is applied via heat press using sublimation, making it permanent + totally dishwasher- and microwave-safe. Specifications: 4.5" H x 3.4" OD.