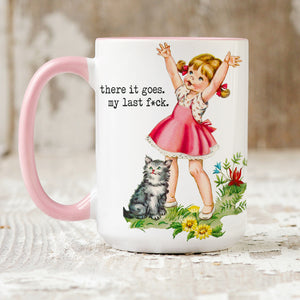 There it Goes. My Last F*ck.
I've made absolutely sure that these 15-ounce mugs are just as solid, sturdy + fabulous as the pure white coffeehouse-style mugs Love Letters is known for. What sets them apart is the pink handle and inner coating!
Full-color design is applied via heat press using sublimation, making it permanent + totally dishwasher- and microwave-safe. Specifications: 4.5" H x 3.4" OD.