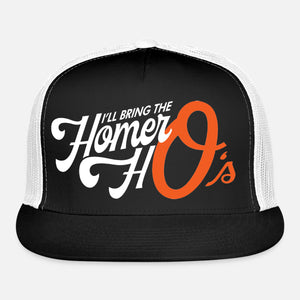 TRUCKER HAT: Baltimore Homer Hose
BALTIMORE ORIOLES CELEBRATION GUIDE: The boys "turn the faucet on" when a player hits a single. An extra-base hit? The sprinkler. But a home run? Now, that's when it gets fun… the batter chugs a bottle of water funneled through a black and orange tube, otherwise known as the Homer Hose!
Or in this case, hO's…
I consider myself a seasoned trucker hat connoisseur, and I can say — without hesitation — that these are one of the best-fitting truckers I've ever worn! Flat-brim cap, designed with black polyester front panel, white mesh back panels + plastic snapback closure.